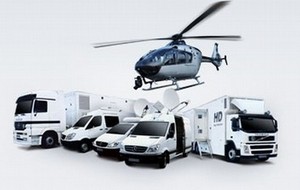 Our goal is to offer full range of broadcast services delivered with the best quality.
It would not be possible without our fully professional crew consisting of multilingual engineers, technicans as well as vision mixers and sound recordists, experienced in various national and international TV productions including big LIVE shows or sport events, that always meet highest standards.
We can provide the most up-to-date equipment ready to work in High and Standard Definition. Our facility consist of HD OB VANs, SD OB VANs, HD DSNGs, SSL (Super Slow Motion) VAN, all equipped with the newest technology such brands as SONY, STUDER, EVS, ORAD, etc.
We are proud to be the first and the only company offering CineFlex V14 head with complete recording and LIVE HD transmitting/receiving system installed on the twin-engine Eurocopter EC-135, in this part of Europe.