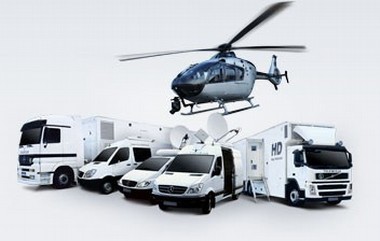 We are Polish company with headquarter based in Warsaw. We fulfill a pioneers role in commercial TV production in our country and have been permanently increasing our flexible functionality and our 'knowhow' since 1992. Based on our own equipment we always have been trying to meet the highest production standards.
In 2007 we were the first who introduced HD OB VANs in this part of Europe and since then we have done more than a thousand (1000!) events in HD technology. This systematically growing experience is our precious value we can offer to our customers.
To make your production success, beside technical crew, we can support you with the full production stuff consisting of the best professionals on the market - Vision Mixers, Sound Recordists, Editors, etc.. We are able to provide video and audio equipment for hire, or we can take care of the production process comprehensively. Our preeminence is having everything that may be on your watch-list, in place. Starting from ENG equimpent through fully equipped OB Vans, Helicopter with CineFlex head to DSNG Vans for satellite and fiber transmition.
Wide range of events was appreciated by the mix of clients. There are international organizations as UEFA (Union of European Football Associations), FIFA (Fédération Internationale de Football Association), FIVB (Fédération Internationale de Volleyball), CEV (Confédération Européenne de Volleyball), WTA (Women's Tennis Association), Interzona, Eurovision, Globo TV, NTV Plus, and also production houses as Freemantel, Endemol, RochStar, and other Broadcasters on our reference list.
Following our huge experience here is the list of main international sport events we were involved in....
SWATCH FIVB World Tour Stare Jabłonki, Myslowice, UEFA Europa League, EHF Handball Champions League, CEV Champions League, FIVB World League, Final Four of CEV Champions League 2010 and 2012, Final Eight of FIVB Word League 2011, Super Enduro (World championship) 2011, WTA Warsaw Open, 2009 Women's European Volleyball Championship, 2008 UEFA Euro (Austria and Switzerland )
... and also main TV shows:
9 editions of TOPTrendy festival, 180 episodes of Honey Mooners series (Polish edition), second edition in the world of POP IDOL show (and next 3 shows),
ESKA Music Award 2002-2007.
There are also some Live-To-Tape concerts on our reference list:
Rolling Stones, Tina Turner, Eros Ramazzotti, Belinda Carlisle, The Scorpions, Opener Festiwal 2011.