EC 135 helicopter is equipped with top-class Cineflex V14 HD with Sony HDC-1500 camera, Fujinon optics 42x9.7 and a second camera in the cab. Our system allows you to perform aerial shootings for film and television. Twin-engine helicopter can fly over urban areas, is equipped with navigation equipment for flying at night or in difficult weather conditions.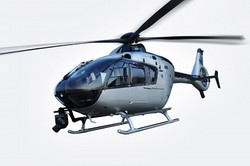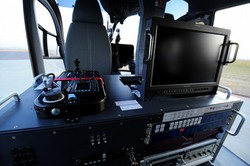 HELICOPTER
Twin-engine Eurocopter EC135
Distance: 750km or 3,5 hours of flight
Seats: 3 (stuff only)
Base: Okęcie Airport - Warsaw.
VIDEO SYSTEM
5-axle gyro-stabilized camera system Cineflex HD V14
Main camera: SONY HDC-1500 with FUJINON HA 42x9.7 lens.
Camera inside the cabin: ICONIX HD-RH1
HDCAM recorder: SONY HDW-280
TRANSMITTING/RECEIVING SYSTEM
1. On-board transmitting/receiving system
Designed and built to ensure simultaneous transmitting and receiving. Allows to send one of the signals coming from three available video sources - Cineflex System, Iconix Camera mounted inside the Helicopter or signal coming from mobile transmitting system. Signal coming from Helicopter's on-board transmitting system can be received by the stationary receiving system installed in Warsaw, or by the mobile receiving system.
2. Stationary Receiving System
Receiving system, consisting of tracking directional antenna cooperating with omnidirectional antenna, allows to receive HD signal from locations placed 100 km (and 200 km for SD signal) far from Warsaw. Those signals received in Warsaw can be delivered anywhere in the World.
3. Mobile Receiving System
In case of shooting beyond the reach of Stationary Receiving System based in Warsaw, additional mobile receiving system allows to receive HD or SD signals on field. It can be placed max 5km far from the transmitter placed on the Helicopter. Additionaly - this signal can be delivered anywhere in the world by any of cooperating DSNG Trucks.
4. Mobile Transmitting System
The great advantage of this system is its size. It is small backpack housing equipment with telescopic mounting and set of exchangeable antennas for various transmitting powers. Custom designed power source allows to exchange batteries during transmitting that allows constant transmission from the connected camera (or even OB VAN) directly to the receiver installed on the Eurocopter. Signal can be HD or SD. Such solution expands possibility of on-field production. Helicopter can be used as an additional video source and also as a transmitting point.